Welcome to UKS2
5/6FR - Mrs Fenton, Mrs Rigby & Miss McHale
5/6C - Mr Cooper & Mrs Sikora
5/6dJ - Mrs de Jong & Mrs Davies
What are we Learning?
Click here to see our 'Curriculum' page.
This half-term we are learning about the Galapagos Islands. We are learning about what makes the environment there unique in geography, how the animals have adapted in science, and about Charles Darwin's discoveries and what life was like for him in history. We are reading Kensuke's kingdom by Michael Morpurgo and basing our learning in English around this. We are currently writing our own adventure stories set on an island. Year 6 are working hard in preparation for their SATs this term too!
21.3.18- 5/6 FR have enjoyed a lovely lunch today. The children have been to Sally throughout the week and made a picnic lunch. They made rice, tomato soup, cheese and onion pasties, chicken and vegetarian wraps and fish cakes. Followed by scones and a delicious chocolate and courgette cake.
All the children joined and tried every part of the lunch. Well done, it was a fantastic lunchtime! Thank you Sally!
14/3/18 - 5/6 FR enjoyed painting their canopic jars today. They had made them the previous week from clay.
13/3/18- Year 5/6 and have enjoyed their Bradford City taster sessions this week!
During Spring 2, we will be continuing with our topic of Ancient Egypt. We will be looking at the discovery of Tutankhamun's tomb and write letters as though we were Howard Carter. During the half term, we will also be creating our own Canopic jars from clay and completing some printing activities.
In science, we will be continuing our topic on Earth and Space. We will be using our scientific skills to create tables, graphs and to write good conclusions.
A quick reminder that Year 5 will also be starting their swimming lessons on Friday mornings- please remember to bring swimming kits, tie hair back and remove any jewellery.-Thank you
19.2.18- 5/6 FR have enjoyed taking part in an archaeological dig today! They used tweezers, brushes and magnifying glasses to find gems, pieces of jewellery and parts of a letter. When they put the letter together they found out it was from Lord Carnarvon.
Our new topic for Spring 1 is all about Ancient Egypt! First we will be looking at Egypt and creating a holiday brochure and identifying where in the world it is as well as identifying it's landscape. We will then look back at the Ancient Egyptians and find out what life was like then. Throughout the topic we will write explanation texts and letters,create sculptures and look at printing.
1/2/18 - We all enjoyed turning out mummification explanations into drama documentaries - in the style of 'Horrible Histories'. Some of us used humour to engage our audience and others even made props to use! We had great fun!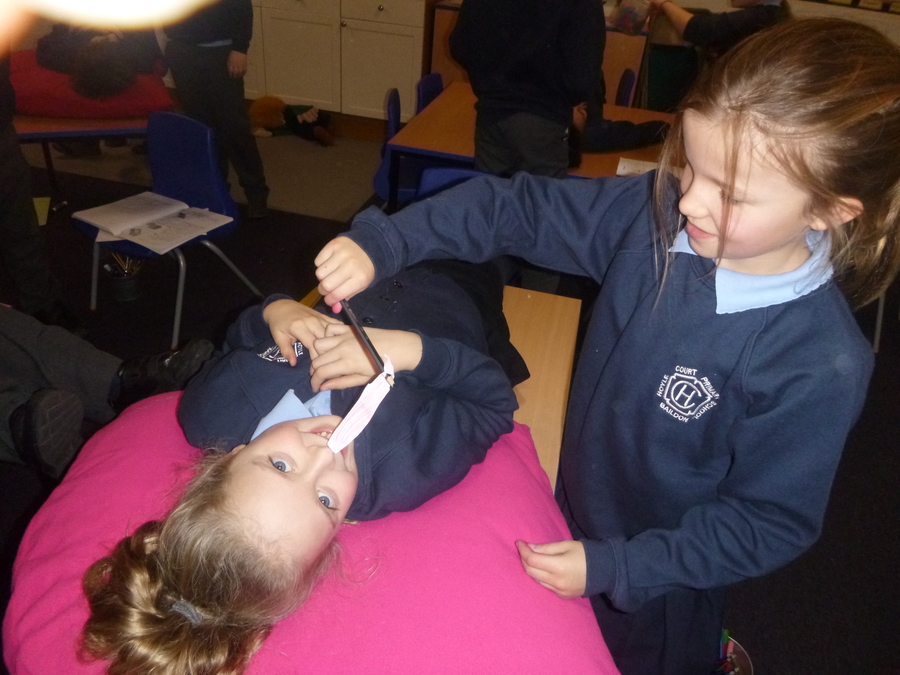 12/1/18 - 5/6FR are really enjoying their violin lessons. Look at the concentration and focus!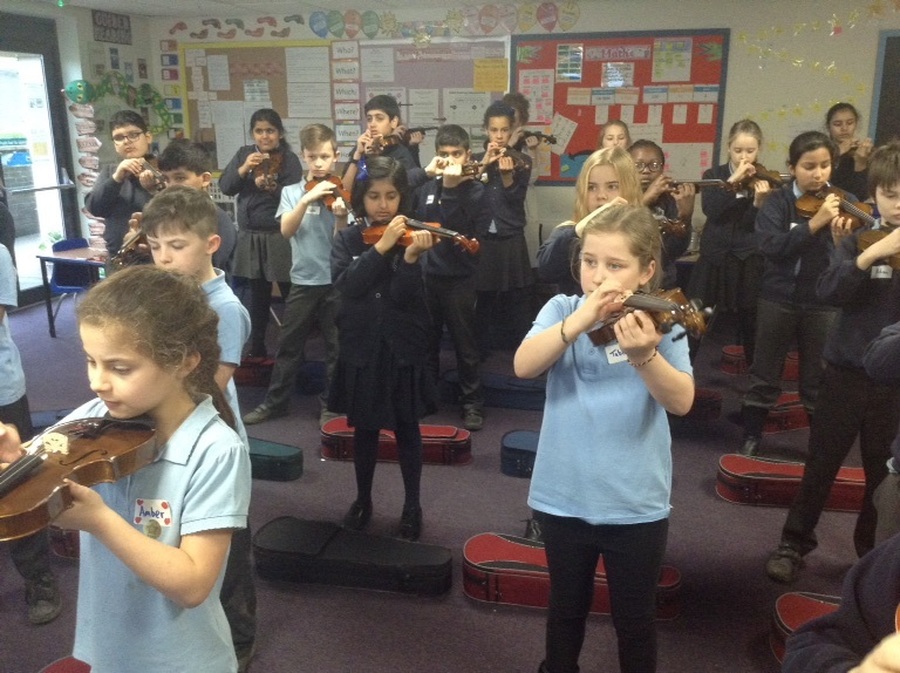 3/1/18- 5/6FR travelled to Egypt today. We packed our suitcase, collected our passports and boarding passes and headed to the Airport. We then went through security and check-in before boarding our flight. Our two pilots (Ahmed and Rayyan) flew us safely to Cairo, with the help of Sadie and Daniel, who provided drinks and refreshments. Once we had arrived we checked in to our hotel and began to plan our holiday adventures. We researched the activities we would be able to do including snorkelling, cruising down the Nile, visiting the Pyramids and much more. In addition to this, we looked at a map of the world and identified key counties.
17th November - We used two apples as an analogy for how words hurt people on the inside and how sometimes the damage and hurt our words cause cannot be seen.We made emoji posters showing how bullies make people feel and think by the words they say. We then reversed this and used emojis to show how kind words can make people feel. We used the slogan 'It hurts' and 'Everyone is more than a zero, so don't be a bully be a HERO!' Well done Tabby, what a great slogan.
13/12/17- We have enjoyed our science unit this half term on Electrical circuits. We have used our knowledge to take part in a 'Dragons' Den' activity. We had to design and make a festive decoration that could light up. We incorporated switches, conductors, motors, buzzers and bulbs.
30/11/17 - Practising shoulder rolls during our Parkour PE lesson. Great fun!
Autumn Term
This term we are learning about Saltaire. We will be finding out about Sir Titus Salt and how and why he built Salts Mill. During the term, we will find out what the conditions inside the mill were like for many children and we will compare this to the life of a child working in a mill in Bradford.