Welcome to class RB from Mrs Borwell, Mrs Rayner and Miss Ramsden.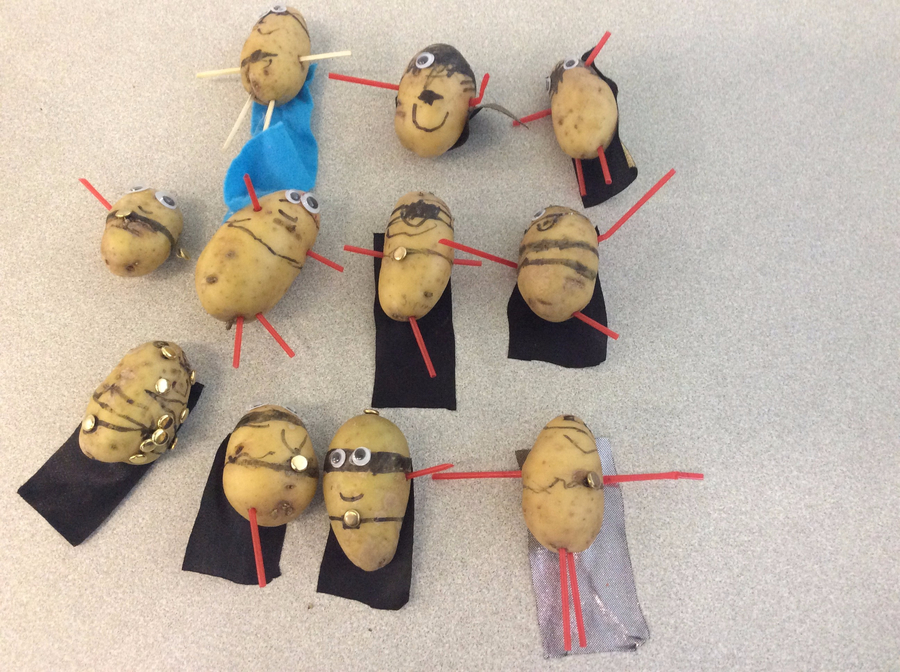 Summer 1
On a Monday morning RB class will have a PE lesson in the hall. Please ensure that your child has their PE kit including: a white t-shirt, navy shorts and pumps. Please encourage your child to practise getting dressed and undressed independently.
Every Thursday afternoon this half term RB class will be taught Shape Space and Measure and PHSCE by Miss Millner. The children will be looking at Bullying through stories and the character the Evil Pea.
The Reception children have all settled into their new school and are busy learning new routines and making friends. We love our guinea pigs, Spike and Humphrey and are learning how to take care and look after them.
Autumn term
We will be learning how to share and look after our toys and tidy away resources correctly. We will practise writing our name every day and encourage the children to be independent.
We will soon be starting our phonic lessons. There will be a Phonics Workshop for parents and carers to attend on Monday 19th of September at 2.45pm in the hall. Please return the attendance slip if you would like to join us and receive a phonics pack to help you support your child's learning at home. Thank you to all the families who attended the phonics workshop. We hope it was helpful and you can use the resources and ideas to help your child.
2/10/16
We have transformed our role play area into a Vets. The children have enjoyed helping to rescue the toy animals and finding out how to look after our real guinea pigs. We have counted sets of dog bones for paw patrol characters, made pets using play dough and enjoyed making pet beds using junk materials. Outside we have loved making a milkshake shop and pet shop.
12/10/16
We are enjoying exploring our woodland area on our forest days. This week the children enjoyed sorting different coloured leaves and comparing different sized sticks. We became leaf detectives and tried to use the leaves to identify the different types of trees.
19/10/16
We have had great fun this week performing our song the Dingle Dangle Scarecrow at the Harvest Festival and learning all about the Little Red Hen. Thank you for all your support donating food for Bradford food bank.
The children enjoyed sharing their learning with their families at our Stay and Play and meet the PTA session. It was a fun event where we made pretend bread, printed leaves and counted vegetables in our Farm shop.
Many thanks to the lovely PTA ladies for providing refreshments and Sally Sandwich and Mrs Rayner for helping the children make the buns.
3/11/16
On Monday we learned all about Diwali and made some fantastic diva lamps. We have enjoyed reading Room on the Broom and have been practising counting by making potions and even writing some of our own. We made our role play area into a potion shop and the children designed the potion bottles to sell. We have been looking at rhyming words this week too.
11/11/16
We have really enjoyed finding out about Bonfire night and firework. We have made some amazing rocket models and had a go at writing the sounds fireworks make.
On Wednesday we had an amazing time working together to build snowmen and playing in the snow. Some children did some great writing about the fun they had in the snow.
We have learned about Remembrance Day and made poppies to wear in our special Remembrance Day assembly. All the children showed a great deal of respect to the brave soldiers during the 2 minute silence and in class discussions.
17/11/2016
This week we had a visit from the Big Bad Wolf. He huffed and he puffed and he blew down everything in our carpet area ! He left paw prints on our floor and even broke a tile on the roof! We have done some fantastic writing making signs and 'wanted' posters to find him. We found clues and a letter in the woods and found out that he is really a good wolf!

We have also learned about road safety and have helped make a fantastic baked mural to raise money for Children in Need. Thank you to Sally Sandwich for organising and helping us.
24/11/2016
We have been reading Goldilocks and the Three Bears. We have been making the perfect porridge for the bears by working out the number problems. We have tried our own porridge to see what we like and made a graph to show the results. We have had a lot of fun constructing a new chair for baby bear too.
8/12/16
An elf called Elvis arrived in our classroom with a letter from Santa. The children have been doing some fantastic learning so Elvis can report back to Santa.

The children did an amazing Nativity show for their parents, carers and families. They all did an amazing job and we are very proud of them.
5/12/16
The children have really enjoyed doing lots of Christmas activities this week. We have made lovely Christmas cards, decorations and even a gingerbread house. The children had an amazing time at our Christmas party. Thank you for all the food you brought in. We enjoyed our school Christmas lunch too.
We hope you have a lovely holiday. Happy Christmas!
5/01/17
Happy New Year!
This week we have read Stick Man by Julia Donaldson. We enjoyed making our own stick men and drawing and writing about our own families.
Just a reminder that our PE is now on Monday again for this half term.
12/1/17
The children have worked hard this week retelling the story of The Three Billy Goats Gruff. They have created their own trolls with junk modelling materials, paint and using the interactive white board. They have worked really hard acting out and retelling the story.
We found a tiny door had appeared in our classroom and we think the Trolls (from the new film) live behind it. We have been making ice creams in the sand and mud kitchen for the Burgen Monsters to eat instead of eating the trolls. We have used our counting skills to follow the recipes. The children have been learning addition through Troll related activities and have been practising colour mixing to dye Poppy Troll's hair. The children have loved our new hairdressers role play area too.
19/1/17
We have been learning about Antarctica and Frozen this week. We have used the internet to find out about Polar animals and written our own information book about them for our book shelf. We have enjoyed retelling the Frozen story using puppets and our small world castle. We have transformed our Role Play Area into a science lab and have been learning about what Antarctic scientists do.
26/1/17
We received a mysterious box this week that was addressed to Antarctica. We looked inside for clues as to who it belongs to. We found a toy seal, a compass, photos of Antarctic scientists and other scientific equipment. We emailed the owner, Sheldon, and found out he is a scientist in Antarctica and have been asking him questions about his life in Antarctica, what he does and how he lives. We have learned about how things are sent in the post and tried to learn our own addresses.
We have done lots of work on shapes this week and have been building fantastic castles for Elsa and Anna from 3D shapes. We measured out a Blue Whale on the playground to see just how big it is (30 metres!).
3/2/17
This week we pretended we were in Antarctica and wrote post cards home to our parents and friends.
We discussed what items we should take on an Antarctic expedition and have used Numicon to work out what we should take in some very tricky maths problem solving.
We also found that Elsa had frozen her friends. We became real scientists and thought of how we could melt the ice the quickest to free them. We tested our ideas and discovered that submerging the ice in hot water melted the ice quicker than putting it in salt, sand or by the light. The children were really excited and I think we have some budding scientists in R Class.
Insert image here
9/2/17
We have learned all about Chinese New Year this week. We found China on the globe and learned about how the festival is celebrated. The children have enjoyed playing in the Chinese Restaurant Role Play Area, building the Great Wall of China and Pagodas and learning how to use chopsticks to move pom poms, competing against each other to move the most before the timer ran out. We also learned how to subtract by eating prawn crackers!
16/2/17
We have continued learning about Chinese New Year. We learned about the story of The Great Race and ordered the animals and did some brilliant writing. We debated whether the rat won the race fairly or not! We made a giant dragon head and used it to do Dragon Dances around the school which we filmed to show our parents. We added flags and musical instruments to our dance and performed it for our parents. Thank you to all the parents who came to watch, we hope you enjoyed it as much as we did!
Have a fun half term!
3/3/17
This week we have learned about Lent and Shrove Tuesday/ Pancake Day. We made our own pancakes and tried different toppings. We talked about which toppings were a healthier choice. The children then ordered the pancake recipe and wrote the instructions. They have designed different pancake toppings too. We practised subtraction using tiny pancakes and enjoyed reading Mr Wolf's Pancakes too. The children enjoyed reading words written on pancakes then flipping the pancakes if they read the word correctly too.
The children loved dressing up for World Book Day and talking about their favourite books.
Just a reminder that PE is now on a Thursday again.
10/3/17
The children have loved learning about People who help us and reading the book Burglar Bill. They enjoyed pretending to be police officers in our role play and small world areas. We asked visitors who help us lots of questions and learned lots of new facts about being a paramedic and looking after wildlife. The children were very excited when they thought they had seen a real snake outside in one of the tyres. We found out it was only a stick but enjoyed finding out about different types of snakes. We continued to practise our subtraction skills using small world people as prisoners in jail.
Thank you to the parents and carers who attended our Tapestry Learning Journal workshop on Thursday 9th March. The children cant wait to share their learning with their families at home.
17/3/17
This week has been Science Week. We have been learning about floating and sinking and have investigated which objects float and sink and the children have tried to think of reasons why this might happen. We used our new knowledge to make a life boat Fireman Sam and his team. We tested our boats to see if they floated and had a boat race.
We have carried on learning about people who help us. We have met a policeman, a nurse and a dental nurse this week and learned all about their jobs.
We have learned about how to brush our teeth and which foods are good and bad for our teeth and our health. We have made medicines and written about what illnesses they cure too.
Insert image here
24/3/17
This week we have been preparing for our special Mother's Day event. We have designed and prepared special drinks, baked scones and learned a song. We used this to learn about capacity, counting in 2s and halves too. We have made some lovely Mother's Day cards and tried really hard to write inside them. We have made some special videos on the iPad to show our mummies. We hope you really enjoyed our Mother's Day tea party event on Friday, thank you for coming.
This week we also had a visit from a tortoise, Donatello. We enjoyed learning about him, finding out facts about tortoises on the internet, doing observational drawings of him and caring for him. We have been sharing pizzas between the Teenage Mutant Ninja Turtles too.
We have been learning about charities and Red Nose Day too. Thank you for your kind donations.
Insert image here
31/3/17 and 7/4/17
For the past 2 weeks we have been learning about Spring and Easter. We have been making repeating patterns on Easter eggs, weighing different eggs and trying to balance the scales and sharing chicks and eggs too. We have learned about why Christians celebrate Easter.
We have really enjoyed looking for signs of Spring in the woods and around our outdoor area and we have used iPads and cameras to take photos of them. We have also planted onions and we cannot wait to watch them grow. The children did some fabulous art work based on the things they saw too.
The children have done some amazing writing in provision and are trying to become more independent when writing. Everyone has been trying really hard to be chosen as 'Writer of the Day' and we are impressed by the writing all the children have produced.
Have a lovely Easter holiday!
24/4/17 and 1/5/17
We have enjoyed reading the book Supertato and finding out why it is important to eat fruit and vegetables. We have planted lots of vegetables, including evil peas and made our own evil pea soup! The Evil Pea has moved into a little door in our classroom and has done naughty things such as making a big mess. We enjoyed being superheroes, rescuing our class teddy Harry Dog from the Evil Pea who kidnapped him and put him in the woods.
We have also been learning about other superheroes helping Spider-man double spiders, Batman make a new Bat-mobiles and helping the Incredible Hulk make a new Strong potion.
We enjoying practising our class assembly all about Superheroes on Wednesday 17th of May.
Insert image here
Insert image here